Contractors have to juggle overseeing several job sites, subcontractors, and staff, and hold the responsibility of getting the job done on time and on budget. If any building materials are damaged or missing, work can get delayed, adding stress to contractors and impacting their bottom line.
What if there were an app that empowered contractors to order materials to be delivered to their sites within 2 hours?
Overview
Project Type: pro bono work
Client: Rebarr
Platform: iOS, Android
Deliverables: wireframes, hi-fi mockups, clickable prototype (
video
)
Tools: pen & paper, whiteboard, Photoshop, Sketch, Principle, Marvel
Goal
Rebarr is a delivery startup in Pasadena, CA, with an app which allows contractors to order building materials from nearby stores to be delivered to their job sites within two hours. Our goal was to redesign the existing Rebarr app to simplify the user flow, streamline the ordering and tracking process, and increase trust among existing and potential new customers.
User Research
Our initial research focused on three methods: user interviews, online surveys of the contractor community, and user testing of the original Rebarr app. These provided invaluable understanding of market need, existing pain points, and guided our user persona development and journey maps.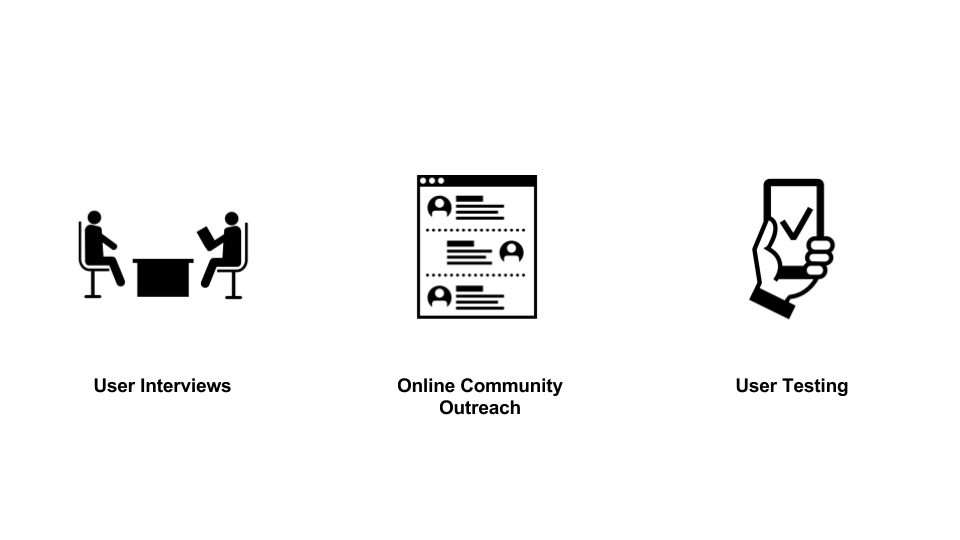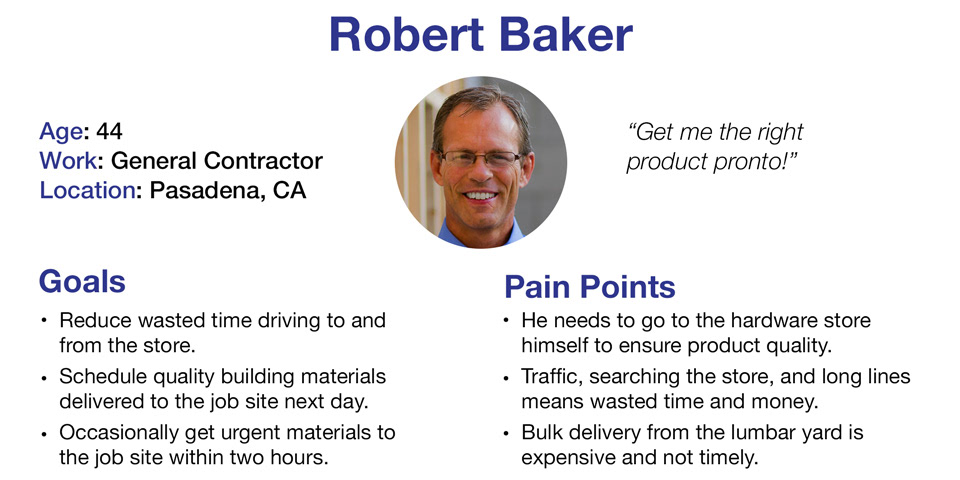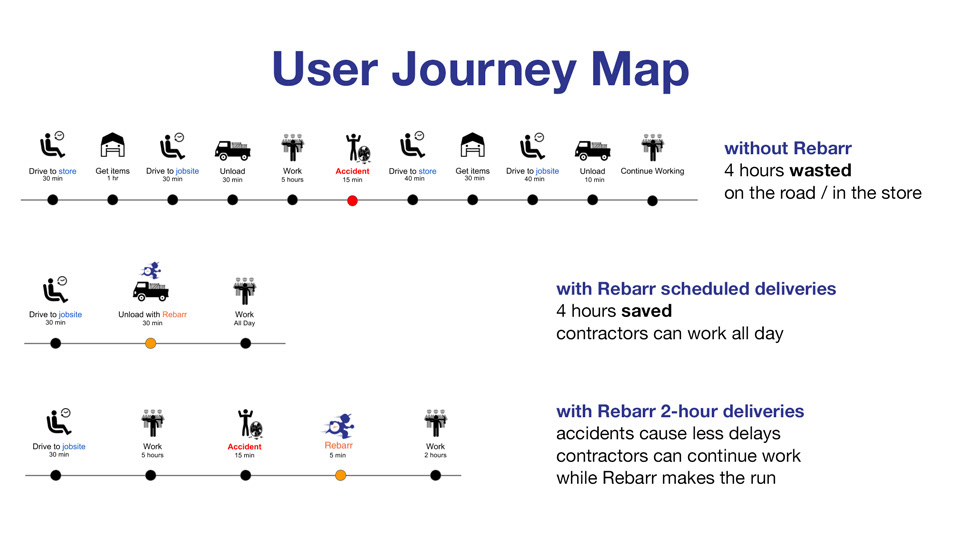 Rebarr is already solving contractors' major pain points, reducing their time on the road and in the store. Then why are contractors like Robert not using Rebarr?
Our redesign focused on building trust between contractors and the Rebarr app through clearer branding, and building a network of happy customers.
Ideation
For building trust through better branding, we created an onboarding tutorial to explain the app to new users.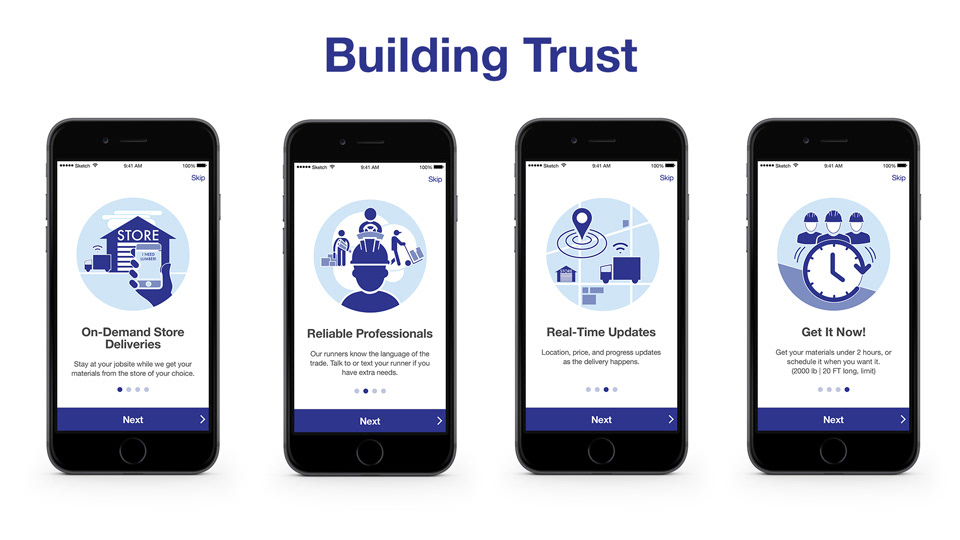 To empower the contractor, we focused on three design principles:
1) Keep it clear
2) Keep it simple
3) Keep it guided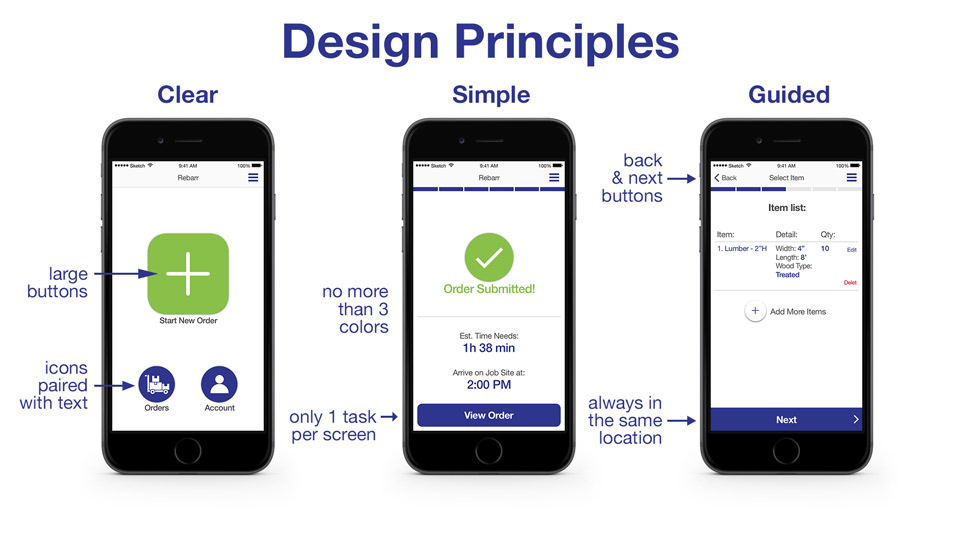 User Testing
In addition to guerrilla testing with colleagues, I conducted three user tests through an online professional service, UserTesting. These tests validated our initial feedback, uncovered pain points overlooked in previous prototype iterations, removed biases from testing with friends or colleagues, and guided our final prototype design.

Next Steps
Since the design sprint and client presentation, Rebarr has taken our redesign into consideration and is working with the development team to redesign the app for both iOS and Android platforms.